Want to visit a new place then you can see the details of Open Mic Café Lahore. As a new trend has started to do live singing for the entertainment of the customers. So for the sake of this trend, Open Mic Café has started its services to encourage customers to come and sing. They have decided to create a humble but refined environment. An experienced team ensures an atmosphere of well-being. This restaurant is one of the best restaurants due to its food quality and taste. Scroll down and check the complete menu along with the details of prices.
Open Mic Café Lahore
To see the beauty of Lahore you need to visit this place. Open Mic Café has decorated their place so cool that this will bring your mind to another level. Low Lights with the music of your own choice and the best quality food is available here. Isn't it the best place to hang out with friends or family?
Open Mic Café Menu:
From the best junk food to the tasty slushes and the shakes this place have all the food. Visit this place to Fill Your Appetite & Explore New Horizons of Taste That Will Tantalize Your Taste buds. The rates are also very reasonable so you should see the details from here. The rates and the complete menu card are available here.
Open Mic Café Deals:
Heavy on pockets? Come along with your friends. Enjoy the Exclusive discount of 10% On the Entire Menu for all the Students. Timing 3 – 6  Monday to Friday. Please show your student ID  at the time of bill payment to avail of the exclusive discounts. Visit them now and get your table reserved right now.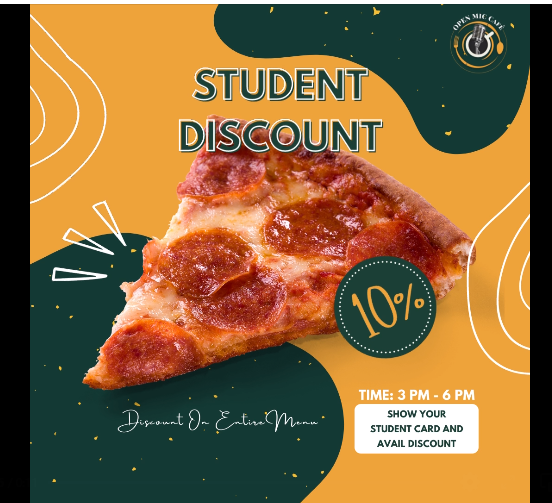 Open Mic Café Karaoke:
Have another shout-out wanted to get your singing talent registered in masses? If yes, then use this platform. Don't miss the chance to get featured on the OMC platform. Lucky winner Everyday wins a meal for two. What are you waiting for? See the details from here.
Open Mic Café Images:
To see the ambiance of this lovely place you have to scroll down. We have tried to share the images of the restaurant that describe the beauty of this place.
Open Mic Café Number:
To reserve your table you have to call on the given numbers:
0311 1022226
Open Mic Café Address:
See the address from here.
 Mian Plaza, Fahad Arcade, Civic Centre Johar Town, Lahore, 54000
Open Mic Café Location:
Check the location from here and then visit this place.
All the information of Open Mic Café Lahore is just available here. Now it's up to you to tell us about the taste and the ambiance in the comment section. Make sure to see the other places near to your location from this website.