If you are here to check the details about Pizza One Karachi Menu prices then you are in right place. The restaurant is famous for its fresh flavoring pizzas. The flavor will definitely trigger your temptations. And that may lead you to fight for the last slice. When you have cravings for tasty food then you can surely satisfy it from here. If you have once tasted it then you all will never forget the taste of their pizza. One Pizza is a place where price has its own Taste. So you can just trust them on the hygiene level. Now you can see the further details from here.
Pizza One Karachi Menu
An ideal place for fast food lovers, now you can truly enjoy the food of this vulnerable place. They are offering true Italian pizza with modified flavors that you will surely love to eat from this place. Those who are looking for the price range of this café can check its complete menu and prices from here.
Pizza One Menu Card:
A place that is famous for its pizza but you can also get the best pasta and sandwiches from this place. Apart from this, they have tasty appetizers, that will be going to be your favorite ones. The complete Menu of Pizza one is as follows along with the rates.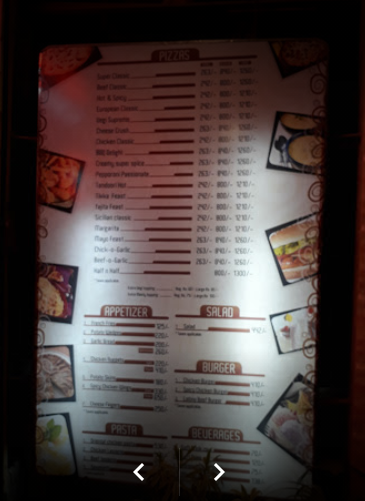 Pizza One Midnight Deals:
Midnight hunger pang deals are here. Now you can Order the pocket-friendly Midnight Deals. The deals are just starting from PKR 380.
 1 – 1 Small Pizza with 1 drink for PKR 380/-
 2 – 1 Regular Pizza with 2 drinks for PKR 800/-
 3 – 1 Large Pizza with 1 Pitcher for PKR 1150/-
 4 – 1 Jumbo Pizza with 1 Pitcher for PKR 1550/-
Pizza One Specialty:
Have you ever heard about pizza cake? If not then this is the first place to have pizza cake for their valuable customers. A place that is just giving the best services along with the best quality food.
Pizza One Restaurant Photos:
Are you going to this place? If yes then first check their beautiful ambiance. The place has a very lovely environment and cozy air that will surely make your mind calm. See the images that are just going to tell you the beauty of this place.
Pizza One Contact Number:
You can also place an order on phone by dialing the contact number of Pizza one. Here is the contact number of this place.
(021) 34321371
Pizza One Address:
The complete address of Pizza one Karachi is as follows.
Arsal House, Main Shaheed-e-Millat Road Karachi, Sindh, Pakistan-74200
Pizza One Location:
Also, you can find its pin location from the below-given maps.
For more details Pizza One Karachi Menu prices specialty deals details, you can call on their contact number or can visit this place. For other restaurants in Karachi, you can check the below side.